Shauna's version of July
October 24, 2008, 9:54 am - Shauna Farrer
So, in James blog, he already posted about his trip to Gillette, Wy. He and my dad both have BMW motorcycles and they went to a BMW motorcycle rally and had their boy fun. The kids and I went to Cheyenne and spent time with my grandparents and my mom and sister. My highlight was being able to go to Cheyenne Frontier Days...Finally. I always used to go as a child, but I haven't been in 10 years or more. So, i took my kids.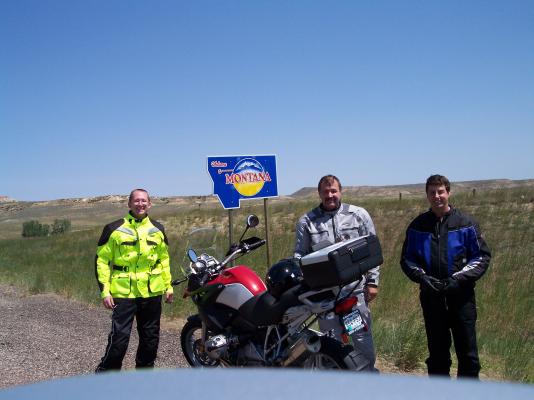 James, Mark (my dads friend), and my dad.They were in 4 states in 4 days. They would go on a different ride everyday. They drove into WY, then visited the Black Hills, Mount Rushmore, Custers Last Stand, and a few other places. I'm glad they had fun.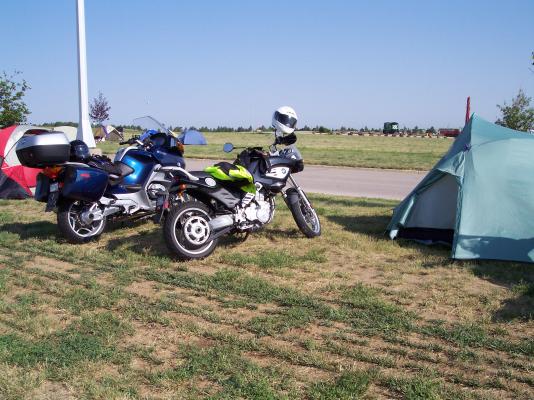 Their campsite in Gillette. My dad's bike is on the left, and James on the right.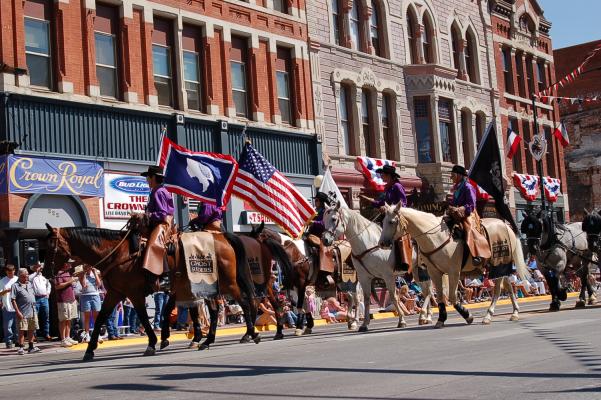 The kids and I saw a lot of horses...and cowboys....and more horses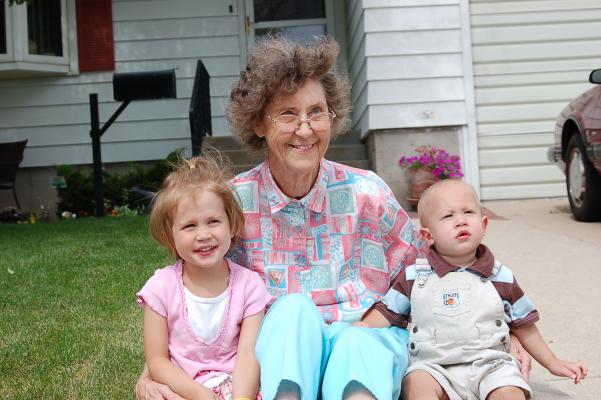 A lot of grandparents, Abby is just starting to figure out which grandmas are which.
And we did a lot of driving! But we made it and it was fun. The only pictures I don't have are from the Taylor Swift and Rascal Flatts concert my sister and I went to. That was my fun!
And last but not least, a pregnant picture. This is 4 months.
Update from Shauna
October 24, 2008, 9:12 am - Shauna Farrer
So, I really just don't get around to keeping my blog updated. James is awesome at it. It's a kind of stress relief for him. My kind of stress relief is either talking to someone on the phone or scrapbooking or sewing or something. So, sorry to all those who even check to see if I've updated anything. It's not because I don't ever log in, it's because I find it so much more entertaining to chec k everyone elses blog, and by the time I'm done the house is in shambles and I have to go separate the kids before a serious injury occurs. So, here are a few pictures from the last couple of months.
In June we went to see Grandma and Grandpa Rucker in Colorado. That's where we cut William's hair and had his first birthday party (one of 3).
One of my favorite things to do at home is watch the sky, it's always amazing!
William learned how to get into the tub by himself. It was nice of him to make sure his clothes and shoes got washed.
Will got 250 of those Chuck-E-Cheese ball pen balls for his birthday. The kids both loved it.
Abby at the Denver Zoo.
So, there's our excitement in June. I'm just going to do brief updates for the next couple of months worth of stuff.
So what do you do?
October 22, 2008, 10:45 pm - James Farrer
I find it somewhat entertaining when people ask "What do you do?" I think most of the time when people ask questions like this they don't really want to know the answer. When I was living in the Baltics an interesting difference between american culture and eastern european culture became very apparent. When americans ask you how you're doing they seriously expect you to say good, fine, or OK. In other words, an american typically does not really care how you're doing they're just using a twisted salutation and maybe trying to make small talk. In the Baltics, if you ask someone how they're doing, you better be ready for the real answer. Not just good or bad, but the 15 minute, here's what's really a pain in the back kind of answer. Add the gospel to that and it tended to be a little more upbeat because hey, it makes people happier, but you still should be expecting an honest answer. I think me going to the Baltics was a good fit because I am just terrible at small talk and I do better when I can actually talk to someone about what's real, not about what they happen to have on for a facade.
Which brings me back to the question of "What do you do?" I asked someone the other day and he somewhat non-interestingly replied "Oh, I'm in the Air Force." Ok, and...? I've never been in the Air Force, but I know there's a lot more to it than just being in the Air Force. After prodding a little about it he said he works in the health care administration office. Now that's cool. Who would have thought about someone doing that as part of the Air Force. Having considered joining the Air Force on numerous occasions and wondering what some of the many varied opportunities that must exist there might be this had even more interest to me. I also need to point out that this situation is by no means unique. I like to know what people do. I am a very curious person; I want to know how and why things work the way they do.
I'm sure that some of this stems from my inability to succinctly explain what it is that I do. By title and job description I am a Technical Training Program Coordinator. That could take a number of different directions based on the current need for technical training. However it rarely seems like I do anything that actually fits into that title. in reality I often feel that IT Guru would be a better fit. And while I think it is somewhat appropriate and just cool to be an IT Guru, it probably is not the most professional job title in the world.
So am I crazy? Am I weird? Undoubtedly I am. But at the same time. I can do a lot, I like doing a lot. And if I don't have variety and hopefully a bit of challenge in what I'm doing, I'm bored. Which makes what I am currently doing a pretty good job fit. So what do I do? I program a little and work with my employees to design some really cool stuff, that will likely never be seen by the vast majority of the population because it's for internal tools. I am nevertheless excited about that part of my job. I do lot's of participating in project meetings and other discussions where I voice my opinion about how I think things should be to make them better. Tunnel vision is an interesting phenomenom that maybe someday I'll explore a little more, though hopefully not too in depth from personal participation. I value a broad perspective on things. In the words of one of my co-workers, I'm the one that they give the stuff to do when they really want it done right. I do not in any way think I know everything, nor will I ever. I do however think I keep an open mind and can see things from a perspective that can help get things done. For example, some reports had been worked on my multiple people and I was finally assigned and was able to get people to work things out because I took the time to understand the context and data. Too few people do this from my limited experience.
And finally, contrary to popular belief (or not really) I do on occasion do some training. It has most often been informal training, but I have provided a little bit of class room instruction and am working on putting some more together. I enjoy teaching. I really enjoy helping other people to understand something.
So now that I've explained a little bit about what I do and how I feel about it. What do you do? Really, I'm interested.