Abby's first primary talk
June 29, 2008, 11:22 pm - James Farrer
Today Abby gave her first talk. It was really cute. When she found out that it was on temples she got really excited and decided that she wanted to sing "The Temple Song" (I love to see the temple). So she did. It took a little prompting once she got up there but she did a fantastic job. She said/sang her song and said her lines and was excited as can be both before and after. Apparently as soon as she got into the room she was itching to go up to the front to do it.
She is growing up so fast. She has been picking up on some of the most interesting little tid bits from various places. For example we watched Mr. Magoriums Wonder Emporium the other day and afterwards she was talking about a lemur (which made a 30 second debut in the film). There have been several other random comments that she has made that just left us speechless or struggling to keep the laughter from overcoming us.
William is starting to repeat various sounds and actions. Tonight after we all sang Popcorn Popping on the Apricot Tree William was bouncing and saying pop, pop, pop... Pretty cute.
On another note, here is a funny moment with William from our trip to Colorado. The tub there isn't nearly as tall as ours and William went right up to it with clothes on and all and climbed right in.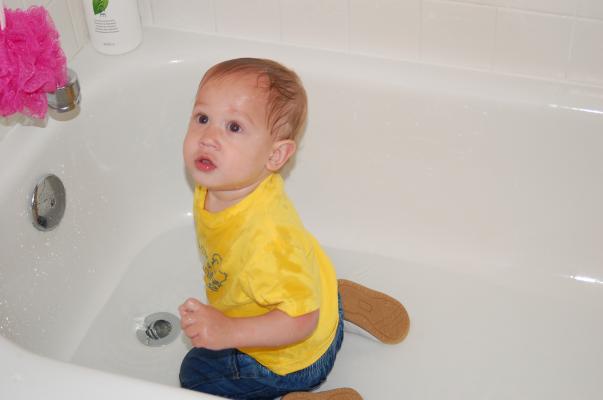 I posted a bunch more pictures not too long ago too from William's birthday and our vacation to Colorado. The pictures are here.