November 19, 2007, 2:06 pm - James Farrer
So it's been a little while since I've posted anything other than pictures and even longer since I posted something substantial. With Thanksgiving this week I've been reminded of many of the blessings that I enjoy. So maybe I'll catch up a little this week since it's Thanksgiving and I took the week off.

It's been a busy summer with William's birth and everything else. And as if that weren't enough to keep us busy there was a job opening in the OIT Communications and Training office (a department that I have worked with in the Service Desks). As I considered the job I was really torn. In some ways I am very much still at odds, and if I have time I'll get to that later. The position was for a technical trainer (more or less) and would be involved in training other computer support personnel and working on some project teams for communications and as a sort of user advocate. The challenge I ran into was that I really liked a lot of what I was doing. It was challenging because I was being overworked and doing a lot of things that should have fallen to other (sometimes non-existent) positions. I had learned to delegate to my students well and I feel like I ran an efficient and enjoyable office. For the most part the students that worked for me really enjoyed working there (which is saying quite a bit for a call center).

This new position offered some new opportunities to be involved in teaching new technologies and taking a different and perhaps less stressful approach to things. It also offered higher pay and a potentially more manage workload.

I applied, was offered, and accepted this new position after a lot of struggling with the decision to try something new. I very much liked the troubleshooting and many other aspects of the Service Desk job, but higher pay and less stress finally won with the opportunity to try some new things out.

The new position has been good but has come with a challenge. I suppose anything new has it's challenges, and I expected them, but they still need to be worked through so here I am working.

Just before I started the new position the responsibility for the ticket system that we use was moved over to this new office. Since I already knew a great deal about it, I was a natural fit to continue work with it. It has been interesting since we are trying to decide on an upgrade path and many people seem to be looking indirectly at me for an answer. I am trying to figure things out and I think I am doing a good job, but it has left a lot of unknowns since it has consumed much of my time and it is yet to be determined what kind of long-term commitment this will mean for me.

I have been involved with a number of project teams and haven't had much time to spend on actual training activities (which is what my job description says I should be doing). Our department is also taking in a new group, the campus computer labs, and we will potentially be splitting some of the responsibilities of this group between us.

All in all, I have very little idea of what I'll actually be doing in 6 or 8 months. I'm not too worried about it, but looking at the long term I hope this move will be good for me. As an IT jack-of-all-trades I find it challenging to figure out what work I want to be doing long-term.



~~~



On the home front we have been very blessed to have William and part of our family. He is a wonderful, happy, and healthy little boy. He has lot's of smiles and is very tall (100th percentile) for his age. It is interesting to look at him and see so many similarities to what I used to look like. Many people comment on how similar we look. I hope I can be a better father for him than mine was for me.

Abby is talking up a storm and is smart as can be. Seeing the differences between her and William is interesting. Abby loves to sing, dance, play with puzzles and just generally be involved in everything that is going on. She is amazing at coloring. In nursery where most kids are doing good to put the crayons on the paper and scribble random lines, Abby very methodically colors in the lines.

While it's more challenging with two kids to do personal things, I enjoy playing with them and watching them grow.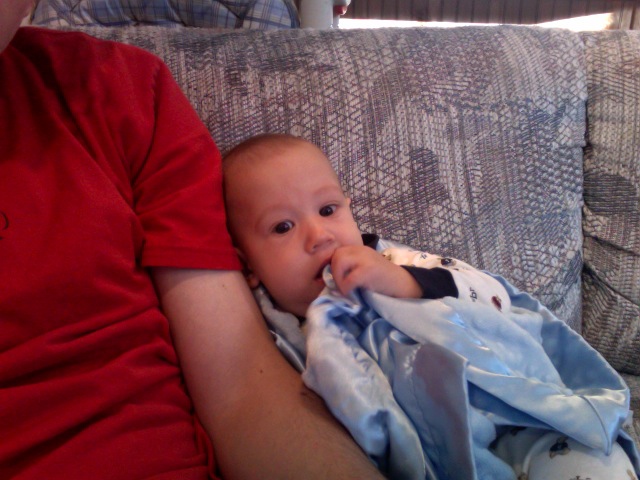 ~~~



So some other interesting things that have happened lately. My mom was sealed to Brent this last Saturday. As part of that I was able to play photographer which was fun. I was telling Shauna how I wouldn't mind doing that a little more officially just for fun and experience. Crystal had her graduation ceremony for cosmetology school. She's still got a week or two left to finish her hours and then she'll have to take the test to get her license. We'll see how much longer she'll be staying with us. She hasn't decided where she'll stay and when she'll get there. I've been released from my calling with the scouts but will still be working in the Nursery. It's fun, but interesting having been in there as long or longer than many of the other workers. At least it keeps me awake.

So that's about it for now.